As the core capabilities of the workforce continue to evolve, a report by World Economic Forum suggests that almost 50 % of the workforce will require reskilling by 2030. Factors like rapid technology advancement, business competitiveness, changing customer needs, and bridging skills gaps drive the demand for upskilling and reskilling. The organization's focus and seriousness on training are clear. However, we see that many activities are built to create knowledge or awareness, but the capability to leverage the skill is still required. 
For subjects or topics where things are complex, the impact is high, or areas with high risks are involved, it is essential to enhance knowledge, awareness, and the skill to deal with such situations. In those cases, we can't afford to keep subjectivity in learning, and hence making learning as authentic as possible is essential. 
Upskilling through immersive learning can help organizations to build a more skilled and knowledgeable workforce, enabling them to stay competitive in an ever-changing business landscape. Now the next big question is How?    
How the magic of immersion makes employees confident in upskilling
Most of us only think about AR/VR as an immersive experience, but immersive learning is more than that. It broadly refers to teaching and training employees in a manner that simulates real-world experiences, making the learning process more engaging, interactive, and effective.   
Immersive learning methodologies involve creating an environment where the learner is engaged with more senses and is active in the learning process.

The magic of immersion utilizes techniques such as 3D visualization, simulations, digital and physical objects, and a partial or entirely virtual environment.  

 

Immersion engages learners in a convincing environment, language, and culture to fully absorb the learning material.  

 

By surrounding themselves with captivating scenarios having relatable avatars, native speakers, authentic materials, and real-life situations, learners awaken curiosity and get immersed naturally, which leads to a deeper understanding and retention.  

 

Learning through experience makes learners attentive, develops deep competence, and enables better decision-making.  

 

The brain makes stronger connections between the lesson's objective and real-life situations, making the learning process faster and more effective.

 
Immersive learning methodologies are becoming increasingly popular in workforce training due to their ability to create realistic and interactive environments that engage learners in active and experiential learning. This approach enhances confidence to upskill. 
The opportunity to practice skills in realistic settings, such as a virtual reality simulation or a real-life scenario recreated in a physical environment, helps them to apply their knowledge practically. For example, learners studying astronomy can use immersive technologies to explore the solar system in 3D, allowing them to visualize and understand abstract concepts such as planetary orbits and gravitational forces. Medical students can use virtual reality training simulations to learn surgical procedures and emergency response protocols without requiring expensive equipment or endangering actual patients.  
Feedback mechanisms provide learners with real-time feedback on their performance, helping them to identify areas for improvement and refine their skills. Overall, immersive learning methodologies offer learners an effective and engaging way to upskill themselves.  
As the organization has started to put employees and employee development at the center of organizational success, immersion provides a powerful and effective learning experience that can help learners achieve targeted knowledge retention and skill development.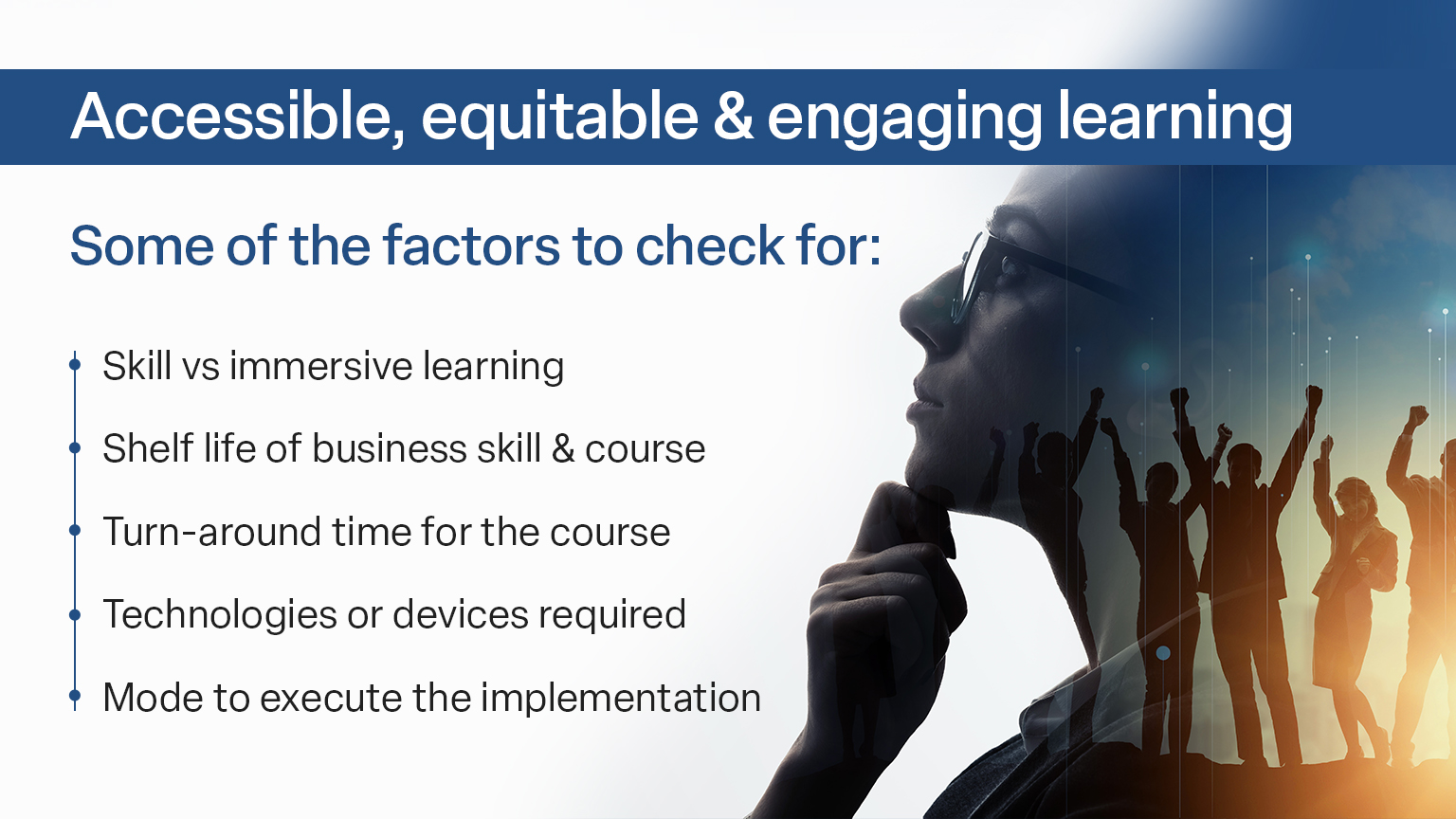 Conclusion: 
2021 and 2022 were quiet precursors to the immersive learning revolution. As the 'number of jobs destroyed' will have to be filled by several jobs required for the future,' this is the right time to invest to stay competitive with talent potential. At Ozemio, our human-centric learning solutions help our clients transform their workforce with a more interactive and captivating learning experience.   
Contact us today to explore more about this approach to employee development that can lead to improved outcomes and overall organizational success for you.