Sales teams – the driving force
Sales teams drive the business growth for companies. Scalable and predictable revenue can only be consistent through continuous sales enablement. But expansion of teams, dealing with unforeseen events like the pandemic, virtualization due to a geographically-distributed workforce and digitization become primary challenges.
How do you align with the buyer journey?
How do you keep prospects engaged?
How do you build trust virtually?
How do you measure the impact of your sales enablement initiatives?
How do you ensure the right training and coaching for sales representatives?
How do you build productivity in uncertain times?
As artificial intelligence and hyper-automation continue to evolve, it's crucial to integrate technology into our sales systems while still maintaining a human connection.
Ozemio and the journey towards unleashing your sales potential
Ozemio's sales enablement solutions encompass three distinct stages.
Discovery:
This stage is an overview and consists of reflective assessment. We look at what the current state is, what the industry benchmarks are, the business goals that sales teams need to be aligned to, and performance gaps. These findings are collected in a report that serves as an action chart.
Determination:
This stage helps us define what the future should look like, including sales onboarding, value selling, and channel partnership.
Implementation:
This is where all the learnings and recommendations turn into a customized action plan for your organization, with a trajectory for continuous improvement. Implementation is carried out across four touchpoints:
Skill – Role-based journeys and custom resource development
Process – Value stream mapping
Scale – Staffing, Growth path, Reach
Technology – Digitalization, Virtualization, Analytics
Ozemio's expertise in sales enablement
At Ozemio, our solutions have been developed over decades of experience working with some of the world's largest multinationals, including those with widely dispersed sales teams.
We offer three effective sales enablement models to help you achieve your goals: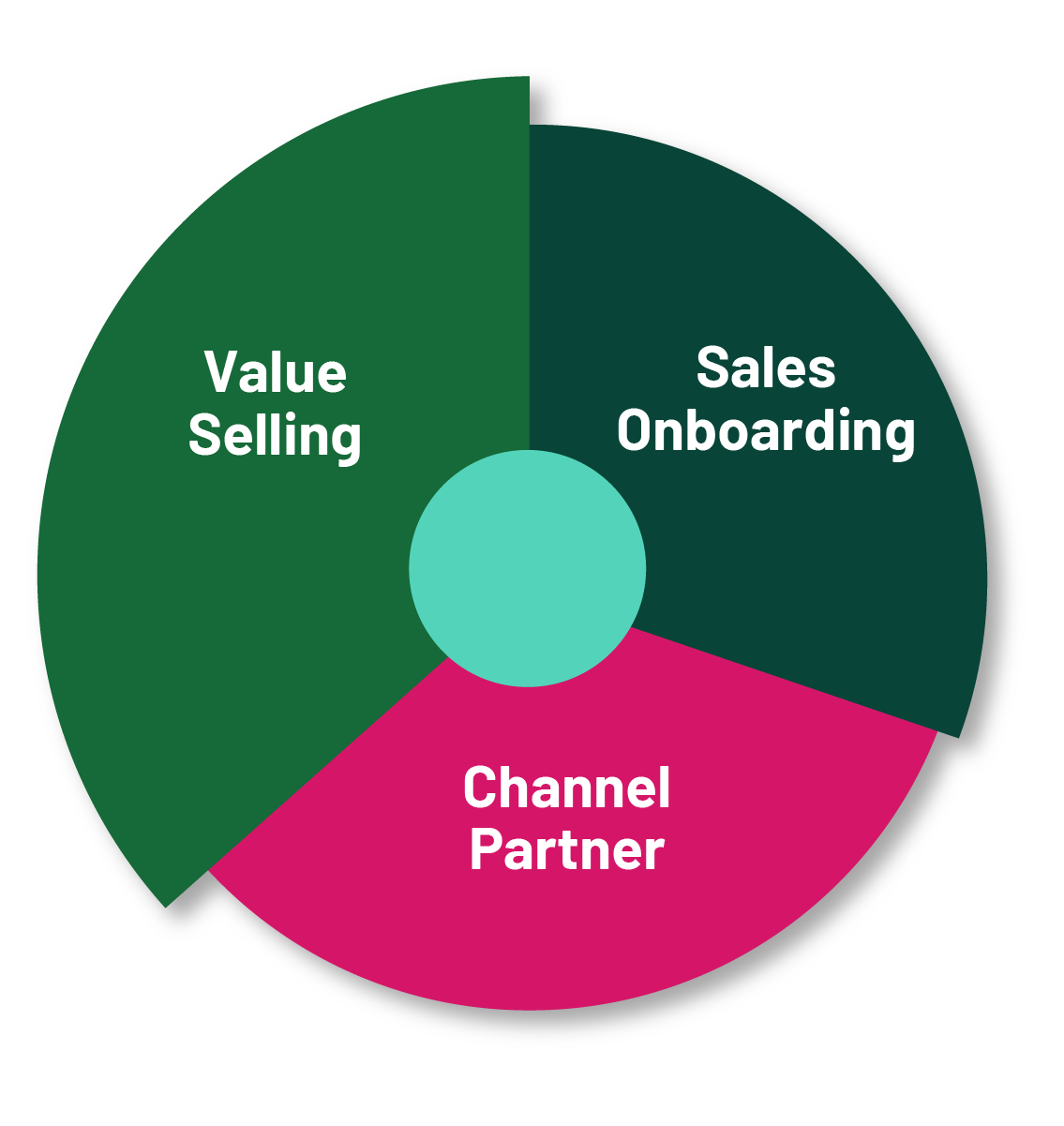 Value-Selling Enablement Model
Our model leverages analytics and artificial intelligence to deliver "just in time" and "just what you need" learning to your sales team.
Sales Onboarding Model
With our Sales Onboarding model, we ensure that new hires feel a sense of belonging and ownership from their very first day.
Channel Partner Enablement Model
Our Channel Partner Enablement model is designed to motivate and engage your partners, keeping them committed to your targets.
Clients who have experienced Ozemio